About myself...
Hello everybody! As you all know. My name is JIBRAK-san but my real name is Jibriel...I was born in July,12 2004. Studied abroad back then and now i live here in my hometown. Phillppines.

You may ask....How old am i? I'm 13 years and since the first time when i make webpages was about when i'm in grade 6. at computer class. we study about network and how to create websites... I also play video games. Which is my favorite thing.. but not only that... i also play flight simulator games which i like realistic ones.... So..... Here i'm showing you about some video games,flight simulators, and other cool stuff... MAYBE??? but anyway see it for yourself then...

Wanna see Super Mario look like in 16-bit Super NES style? Take a look..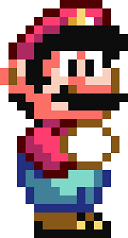 Yeah. Classic super mario...
I might be making more webpages soon... So stay tuned... Alright?
I'm more busy playing games, Watch YouTube, and play Flight simulators like FSX(Flight Simulator X)
How many hit-counters i get when people visit my site?

target="_blank" style="font-family: ; font-size: px; color: #; text-decoration: ;"> Want to go back from homepage?
Click it here...